Stocks struggle to rise ahead of the Fed
Posted on Wednesday, 23 September 2009 and filed under Finance . You can follow any responses to this entry through theRSS 2.0 . You can leave a response or trackback to this entry from your site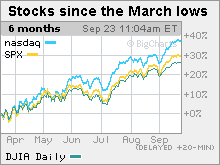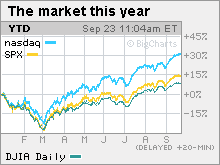 When Wall Street nearly collapsed ?Would panic prevail? That was the question gripping the world in the days surrounding the fall of Lehman Brothers on Sept. 15, 2008. One year after that terrifying Monday, the people who struggled to cope with the financial crisis share what they were thinking as chaos broke out.
NEW YORK (CNNMoney.com) -- Wall Street churned Wednesday ahead of the latest policy statement from the Federal Reserve, with a stronger dollar and weakness in commodity shares keeping a lid on any gains.
The Dow Jones industrial average (INDU) added 18 points, or 0.2%, with around 3 hours left in the session, after ending the previous session at the highest point since Oct. 6, 2008.
The S&P 500 (SPX) index trended higher after ending at the highest level since Oct. 3.
The Nasdaq composite (COMP) added 4 points, or 0.2%, after finishing at the highest mark since last Sept. 26.
Investors are focused on the Federal Reserve, which concludes its two-day policy setting meeting with an announcement on tap for roughly 2:15 p.m. ET. The central bank is widely expected to hold the fed funds rate, a key short-term bank lending rate, at a level near zero.
However, what the bankers say in the much-scrutinized statement about the economic outlook will be key. Last week, Fed chief Ben Bernanke said the recession is likely over, but the labor market still has a long way to go.
Investors will also be looking to see if they say anything about how they plan to eventually wind down programs that pumped trillions into the economy to cushion the blow of the recession.
One-year highs: The major indexes have repeatedly closed at near 1-year highs over the last two weeks. Despite rampant calls for a September selloff, investors have used any modest pullback as an opportunity to get back into stocks at a slightly lower level. Analysts say fears of having missed the boat on the rally are driving the latest spate of gains.
Since bottoming at a 12-year low March 9, the S&P 500 has gained 58.4% and the Dow has gained 50%, as of Tuesday's close. After hitting a six-year low, the Nasdaq has gained 69.2%.
Stocks have risen during this period on signs that the economy is slowly starting to recover and on extraordinary amounts of fiscal and monetary stimulus.
Airlines: American Airlines and US Airways Group both slipped after announcing plans to raise cash, dragging down the airline sector in the morning.
American said it has priced its offering of 48.5 million shares of common stock, as well as $400 million in 5-year notes, with both offerings due to close Monday. The two sales should give American about $770.5 million after fees and expenses. American parent AMR (AMR, Fortune 500) fell 5%.
US Airways Group (LCC, Fortune 500) said it will sell 26.3 million shares of its common stock to Citigroup, the offering's underwriter, with the sale due to close Monday. US Airways fell 10.7%.
The NYSE Arca Airline (XAL) index lost 2%.
Other company news: General Mills (GIS, Fortune 500) reported higher quarterly earnings that topped forecasts and boosted its full-year outlook, due to strong sales of Cheerios, Trix and its other cereal brands. Shares rose over 4%.
Washington: Treasury Secretary Timothy Geithner told a House committee that U.S. economic growth appears to be picking up, but that reforms must be enacted to fix a broken system. He was testifying at a House Financial Services committee hearing on regulatory reform.
At least one million people could be eligible for an additional 13 weeks of unemployment benefits, following a House of Representatives bill approved Tuesday night. The Senate is expected to take up the issue soon, although it faces some questions about how it should be funded.
World markets: Global markets were mostly higher. In Europe, London's FTSE 100, France's CAC 40 and Germany's DAX all advanced in late trading. In Asia, the Hong Kong Hang Seng fell 0.5%, while Japan's market was closed for a holiday.
Currency and commodities: The dollar gained versus the yen and euro, bouncing after hitting a fresh one-year low against a basket of currencies in the morning.
The strength in the dollar dragged on dollar-traded oil and gold prices.
U.S. light crude oil for October delivery fell $2.66 to $69.10 a barrel on the New York Mercantile Exchange, dropping after a government report showed a big jump in weekly crude supplies.
COMEX gold for December delivery fell $4.70 to $1,010.80 an ounce. Gold closed at a record high of $1,020.20 last week.
Bonds: Treasury prices fell, raising the yield on the benchmark 10-year note to 3.45% from 3.44% late Tuesday. Treasury prices and yields move in opposite directions.
Market breadth was positive. On the New York Stock Exchange, winners narrowly topped losers on volume of 520 million shares. On the Nasdaq, advancers topped decliners by a small margin on volume of 1.31 billion shares
2 Responses for
" Stocks struggle to rise ahead of the Fed"
Leave a Reply
Photo Gallery